O'DONNELL Z01-T 1-8th 4WD OFF-ROAD Competition Race Truggy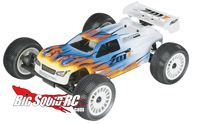 O'Donnell Racing has issued a press release talking about their new O'Donnell Z01-T Truggy. It's 1/8 scale, 4WD, and built to race! I had the pleasure of talking to 'THE' Steve O'Donnell himself last week. He's really a great guy, and cool to talk to every time I see him. They really put a lot of thought into this vehicle! From the captured hinge pins to the large box for the electronics. (I thanked Steve for that.. finally a little room to move around!)
There were a lot of Nickel-plated steel parts like the front and rear drive shafts, outdrives, steering and camber links. There was also a ton of hard anodized aluminum parts! Even though this thing is build for racing, I'm willing to bet it can take some bashing abuse! If we are lucky, maybe we'll get our hands on one to review!
Check the NEW Product Forum for the full press release.
Here are two shots I got from the iHobby Expo 2008.