O.S. Engine – 12XZ Speed Spec III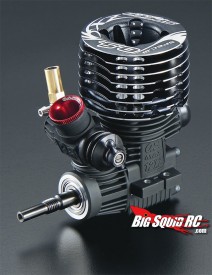 New from O.S. Engines is the 12XZ Speed Spec III engine. The guys over at O.S. keep squeezing every little ounce of power out of these things! The outer head is 1mm shorter and sits 6mm lower over the crankcase for a lower center o gravity. The crankshaft has DLC coating and pressed-in Tungsten weights with a ceramic bearing. The cylinder liner is slightly thicker with all new redesigned ports for better flow giving a boost to mid-speed while giving a better fuel millage. It also offers a redesigned carburetor with a better throttle response.
Other Details:
Displacement: 0.128 cu in (2.1 cc)
Bore: 0.543 in (13.8 mm)
Stroke: 0.55 in (14.0 mm)
Practical RPM range: 5,000-44,000
Output: 1.73 hp @ 35,000 rpm
Weight: 7.9 oz (225 g)
Includes: 12F2(B) carburetor, RP6 glow plug, exhaust seal ring, dust cap set, 5.5 mm red carb reducer.
The part number is OSMG1992 and the tuned pipe set number is OSMG2973. Retail price on the engine is about $450.
Need more news from Big Squid on O.S. Engines?