O'Donnell Puts Up Some Wins at Motorama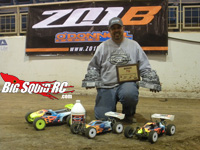 Looks like O'Donnell Racing has started to make some waves early this year with a couple of wins at the Motorama event. Driver Barry Baker won Electric 1/8 Buggy with the Z01-E, and Nitro 1/8 Pro Truggy! He also placed well in Nitro Pro Buggy with the Z01B-SG.
Congrats to Barry and O'Donnell Racing!
Hit the O'Donnell Racing Website for details.