Official: Traxxas Ken Block Gymkhana Fiesta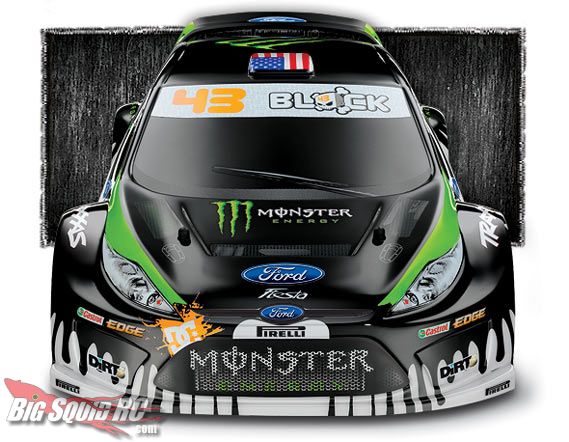 We showed you the spy shot from IHobby that broke the story, and now we can finally give you the official details on the Traxxas Ken Block Gymkhana Fiesta. A lot of people have been talking about it and waiting with bated breath for more info.  Here's what we can tell you from the official release.  As with all Traxxas vehicles the Ken Block Fiesta will be full assembled, RTR with a 2.4 GHz TQ radio, 6 cell NiMH battery, and charger included.  It'll be getting it's power from a Velineon 380 brushless power system.  Some of the cooler details include green pushrods and links, officially licensed Volk TE37 racing wheels wrapped in "Gymkhana compound" slick tires, and of course, the ubiquitous Ken Block/Monster Energy detailed graphics splashed all over the officially licensed Ford Fiesta body.  The car is also waterproofed, head to toe, with a sealed radio box, waterproof electronics, and rubber sealed ball-bearings.
The big news?  It should be on the market just in time for Christmas and it'll be available for an MSRP of $319.99.
There's a lot to like about this cool car.  And it's easily one of the most anticipated cars we've reported on in a long time.  Check out the Traxxas web site for more info.
Traxxas Ken Block Gymkhana Fiesta gallery