OFFICIAL Traxxas Kyle Busch Camping World 1/16th Scale Truck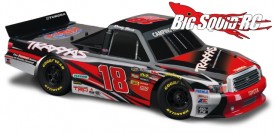 Brian broke this story wide open earlier today, and now it's official. Traxxas has updated their website to showcase the new 1/16th scale officially licensed Kyle Busch Camping World Race Replica. The truck is built off the tried and true 1/16th scale VXL platform from Traxxas, and will be avaliable in both a brushed and brushless model. It will have an officially licensed Toyota Tundra body, and newly designed Goodyear Wrangler tires and replica rims. Of course, it has all the other features you've come to know from the VXL-styled vehicles like 2.4 GHz radio equipment, Revo-inspired suspension, and waterproof electronics. It appears that it will be shipping sometime in late May.
I was just telling Brian on Monday night that Traxxas was due for something big! I know it isn't a new platform, but I think this will be a huge cross-promotional product, that will have a lot of appeal to the non-RC crowd. NASCAR is a huge sport, and being able to draw in some new interest into RC is something I'm always in big support of. Being that I am a big NASCAR fan, and a DIE-HARD Kyle Busch fanboy, this truck is a dream come true for me! Consider it ordered! Could we see a 1/16th scale NASCAR Truck Series class in the future? Time will tell. Be sure to check out Traxxas for all the info!