Official word: Traxxas Titan Deep-V Brushless Boat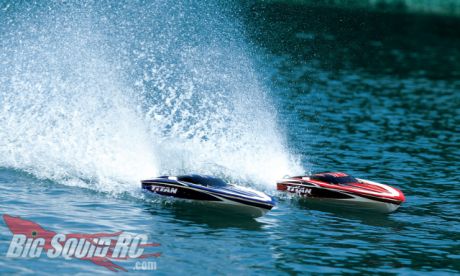 Those guys from Texas are lettin fly with the details about the new Traxxas Titan Deep-V brushless boat (not to be confused with the Traxxas Titan 12-turn motor, obviously).  This 3-foot beast is packed to the gills with power.  Driven by a Velineon 540 XL brushless motor and VXL-6s Marine ESC, Traxxas is boasting of 50+ MPH speeds out of the box when paired with 6S worth of LiPo goodness.  If you prefer a slower cruise speed then you can use the two included 7-Cell NiMH packs to put your out-of-box speed at just about 30 MPH.  Another cool thing about this boat is the removable center tray that holds all the electronics, motor, and stuffing tube, so you can quickly and easily get in there and perform maintenance.  Other features of the new Titan include aluminum running hardware, highly-adjustable battery trays with hook-and-loop straps, and the TQ 2.4 GHz radio system with waterproof electronics.
When the Titan hits your hobby shop shelves at the end of July it'll be available in manly red or girly blue.  MSRP for this badboy is going to be $680, but the street price is likely to be a bit cheaper.  Hit up the Traxxas web site for more details, pics, and video.  Looks like Aquacraft might have some competition.