Onyx 245 Dual Charger Review
The Onyx 245 AC/DC Dual Balancing Charger Review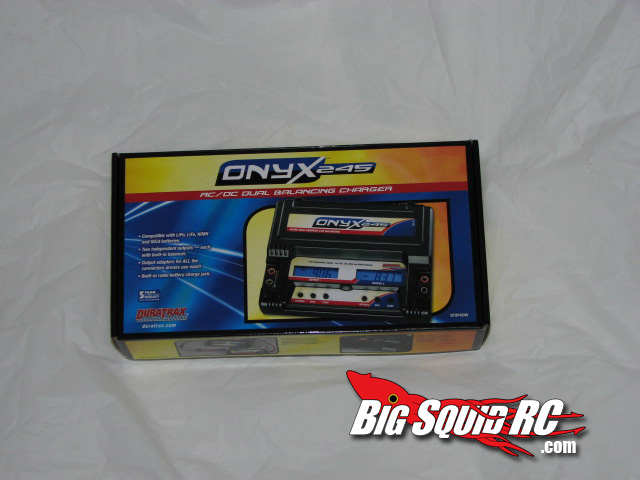 Electric vehicles are currently winning the see-saw battle over nitro, and this means more batteries and more charging. There are a lot of chargers on the market, but with people needing multiple battery packs to run their vehicles, you may want to consider your options. Do you want two chargers so you can be charging multiple batteries? The Onyx 245 lets you charge two packs at once. Lets see if it does everything else we need…
From: DuraTrax
Direct Link: DuraTrax Onyx 245 Dual Balancing Chager
Average Price of System: $120
Reviewed by: Brian
Specs –
AC Input: 110V AC 60Hz switching supply with U.S. plug
DC Input: 11-15V DC, built-in lead with alligator clips
Protective Devices: Solid-state reverse polarity and current overload
Dimensions: 7.95 x 6.1 x 1.77″ (202 x 156 x 45mm)
Weight: 28.2oz (801g)
Specifications for Each Output –
Battery Types: 4-8 cell NiMH or NiCd, 1-3 cell LiPo or LiFe (3.7-11.1V) packs
Battery Capacity: 100-7500mAh
Fast Charge Current: 0.8A, 1.5A, 3A, 5A linear (80W total, 40W each output)
Fast Charge Termination: Peak detection for NiCd and NiMH, cc/cv for lithiums
Fast Charge Safety Timer: 90 minutes
NiCd/NiMH Peak Sensitivity: 8mV for NiCd; 5mV for NiMH
NiCd/NiMH Auto-Trickle Current: Auto (50, 100, 150, 250mA)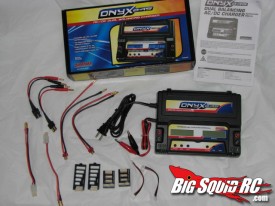 What's In The Box : Surprisingly, there is a lot of stuff in the box. Besides the charger, you get 2 Deans Plugs, 2 Traxxas Plugs, and 2 Tamyia (standard) Plugs. You also get ElectriFly and FlightPower/Thunder Power 6S Balance Boards. So unlike most chargers that you buy, this one pretty much has you covered to be up and charging in no time.
Build Quality – The box itself is well built. There were no issues with our test unit. It has a solid feel to it, and you probably won't damage anything tossing it in your pit box.
Test Venues – We have tested with this unit at the track, the office and on the road.
Ease Of Use – The menu system on the charger was easy to navigate. The instructions are only a few pages and are very easy to read. They explain everything you need to know to charge NiMH or LiPo style batteries. If you are looking to really be able to dial in and graph your battery data, this is not what you are looking for. If you are looking for something very easy to use, and not complicated at all, this is the charger you want.
Actual Usage – During our testing went through all types of batteries on the charger, and had no problems with doing exactly what we intended to do. In reality, it's like having two separate chargers in one little box. Each side has it's own plugs, buttons and displays.
The fact that the menus keep things really simple is a plus. You aren't bothered with too many choices of stuff you will never really change anyway. You choose the battery type, charge current, and go.
A nice feature is that the charger will show the current amount of voltage in the pack, and if your are using a LiPo with the balancing plug, it will give you individual cell data. This is a huge plus. Normally I find myself looking for my voltage meter. While charging, the backlit screen will cycle through the voltage, current going in, how many mah have been sent, minutes charging, and then individual cell voltages.
Thinking about some of the tests we did in our LiPo Battery Charger Shootout there are a few things worth mentioning. Similar to the way other Onyx/DuraTrax chargers have worked in the past, your charge time can be really slow as it trickles in towards the end at .1 amps for 10+ minutes. Most charges would just bail, but this charger makes you wait while it squeezes in every last drop of energy. If you have time and your wrenching or something, no big deal. If your in a rush, you will probably stop the charge when it gets to this point and take your batteries and go. Except for the end point, overall charging is pretty quick as it reaches it's peak quickly.
The only major downside to this charger is for the people with the bigger LiPo packs. You can only charge up to a 3S pack on this charger, so you folks running 4-6s packs in your buggies and monster trucks, I'm afraid you are out of luck.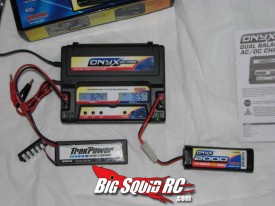 Overall :
This charger is ideal for people getting into the hobby who don't need things over complicated, who are almost always running 2s and 3s packs, or NiMH or LiFE packs. It's all about keeping it simple, doing what needs to be done, and moving on. The ability to plug it into your wall, or run off a battery without needing a power supply is a welcome feature.
As with all of our stuff, if you see us at a bash, stop by and check out the vehicles we have with us. We may let you take a test drive, and at the very least get you some stickers!
SUMMARY
Time To Bash – 8.5/10 – Comes with everything you need to be up and charging quickly. The end of the charge can be a little slow.
Car Show Rating – 8.0/10 – Dual Backlit screens and a small form factor for two chargers is nice.
Bash-A-Bility – 9.0/10 – We didn't throw it in the air and drop it off a drivers stand, but it can withstand being tossed into your pit box and rolling around in there.
Ease of Use- 9.0/10 – The charger is very easy to use. The instructions are well done, and anyone should be able to be up and charging without issues in no time.
Power- 7.0/10 – Not being able to charge 4s and higher packs could put this one out of the picture for some people. If you are staying in the 3s and under range you are good to go.
Value- 9.0/10 – At only $120 for essentially two chargers, this is really a good value if the battery limits work for you.
Big Squid Rating – 9.0/10 – Tentacles.. – Easy to use, comes with everything you need in the box, and is a good value. This is a great first charger for anyone getting into the hobby, or a vet just looking to do multiple packs and save some bench space.