OOSpeed M.E.D.T. Drift Tire Changing Tool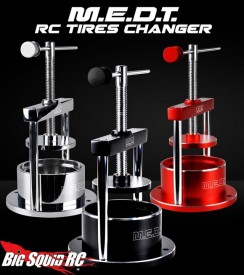 Ever change a rear tire on a YZF450 with a large pair of straight slot screwdrivers? I have, and I can assure you it gets real ugly, real fast.
Changing rc drift tires is no cakewalk either. Those hard drift tires just don't like going on or coming off a rim.
The guys over at OOSpeed must have changed a few drift tires too, enough to know there had to be a better way. That must be why they have just introduced their new M.E.D.T. Drift Tire Changing Tool. Constructed out of aluminum, the M.E.D.T. makes short work of taking off, or putting on, those pesky drift tires.
Price for the M.E.D.T. is $60 and they are expected to hit the market in late October. For more information simply hit up This Link.
Thank goodness it's Friday, before you get your bash on this weekend check out this TGIF Mystery Link.