O.S. Engines .21 VZ-B V-Spec Limited Edition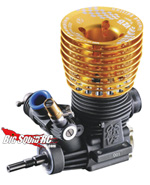 Wowza, O.S. Engines has a new O.S. .21 VZ-B V-spec Limited Edition engine coming out. How limited? There will be only 300 numbered engines! The 300 will have a specially modified cooling head with 16 machined holes for lighter weight and anodized in gold! The top features graphics to signify all four IFMAR World Championships won with the VZ-B engine. So not only do you get a top of the line engine, but you get some serious points for the bling factor!
Head over to the O.S. Engines site for more details.