OS Release a monster into the wild…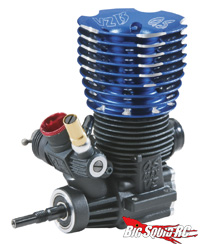 Hand made in the US for the aspiring racer the OS .21VZ-B V-Spec Pro Modified engine with 2.48hp and up to 40,000 practical RPM's. This beast will dominate! Did I saw hand made? What about hand selected pistons and liners to ensure a better fit? More weight was eliminated with the 8 holes in the beautiful OS blue cylinder head along with a ceramic rear bearing for less friction. Can it get any better than this? Let's add tungsten weights in the crankshaft to improve balance at higher RPM's. OS has thought of everything with this rocker!
Don't forget to grab some extra fuel when you pick this powerhouse up, you're going to need it!