Outerwears Covers the Electric Guys!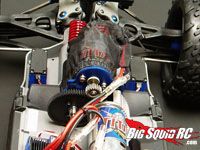 Electric RC guys, fear not! Outerwears now has you covered. By using the Outerwears Pre-Filter, you will keep out a lot of the dirt out, and keep your electric motor running smoother and better! It has elastic and zip tie closures around the wires and comes in black, blue, red, yellow, orange, purple and lime green!

Outerwears also has a special version for the Hot Bodies D8 which has a reinforced hole in the top for a durable and precise fit.
Make sure to visit the official Outerwears website for more information.