Overdose Racing Car Stand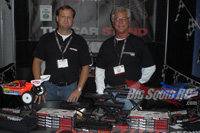 I wanted to mention someone we missed earlier in all of our iHobby Expo 2009 news. The new guys from Overdose Racing with their first big product The Car Stand which is really making some waves right now in the industry! If you are looking for a new RC car stand, or to upgrade from that PVC pipe you have been using, make sure to check this one out!
Visit the Overdose Racing Website for more information and details, and make sure to tell them Big Squid RC sent ya!