Panther Rattler tires now available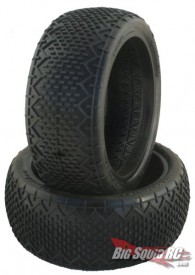 Panther are back with a new tire design for 1/8 scale buggies, called the Rattler.  Panther suggests that these tires are ideal for hard packed surfaces and also mention that the tires were used to TQ and win round 2 of the Midwest Nitro Series.  The Rattler is available in three compounds: soft, super soft, and clay.  You also have a choice of foam inserts with yellow molded and white soft available, or none at all if you choose to roll that way.
The Rattler is available now for a low price of $19.50 per pair, with the foam selection adding a few bucks more.  Check out the Panther website for more info.