Parkzone VisionAire BNF 3D Park Flyer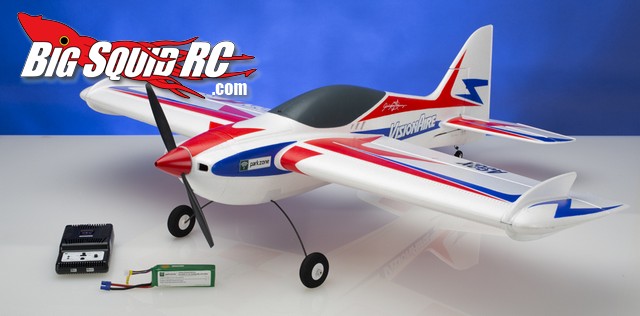 In case you didn't watch our Google + Live show last night, we made a little announcement that we'll be doing more air and boat coverage from here on out (bashing oriented of course). Look for a full announcement in a couple of days.
As part of our expanded air coverage, we'll start off with a game changer from Parkzone. Their new VisionAire BNF (BNF- Bind and fly) changes the game by putting a stabilization system into a plane of this size. The stabilization system, called the AS3X System, makes it easier to fly for mere mortals like you and me. Some of the other features and specs include-
* Spektrum™ AR635 DSMX® receiver with AS3X® System, installed
* Powerful 10-size BL outrunner, 1250Kv, installed
* E-flite® 40A Lite Pro Switch-Mode BEC Brushless ESC (V2), installed
* E-flite 13-gram digital micro servos, installed
* Clear belly window for monitoring AS3X System status
* Carbon-reinforced Z-Foam™ construction
* Leading-edge vortex generators
* Double-beveled hinges for large control surface throws
* Durable wire landing gear and large wheels for flying off grass
* Two piece wing for easy transportation and repair
* Sharp, Mirco Pecorari signature trim scheme
* Includes 3S 2200mAh 25C Li-Po battery
* Includes 2- to 3-cell DC variable rate charger
* Requires a full-range 4+ channel DSM2®/DSMX aircraft transmitter, sold separately
* Wingspan: 45.0 in
* Overall Length: 42.5 in
* Part number #PKZ6580
Expect a street price of $299 on this one, with an early February release date. Hit up the official Parkzone website for more information on this and all of their fine products.
Looking for more air news on BigSquidRC? More coming soon! Till then, how about checking out our Review section?