Parma Ford F150 Raptor SVT body for Slash
The Ford Raptor SVT is a hot ticket in the R/C world, and now Parma is introducing their own take on the truck for the Traxxas Slash.  You can expect to find a full complement of decals, window masks, and all the usual stuff that comes with bodies.  Also on display were a few of their new paint masks and the Mini Mohawk body, which we've shown you earlier this week.  Keep an eye on the Parma web site for more info.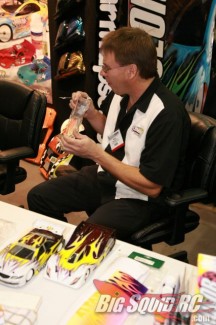 On another note, one of the cool things about IHobby is getting all kinds of demonstrations and face-to-face time with experts in the hobby.  Parma will be painting bodies in their booth all weekend and you can stop by, watch how it's done, and pick their brains for hints and tips to make yourself a better painter.  So be sure to check them out.