Press from the Insane RC Speed Run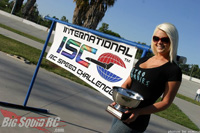 Just got some word from the Insane Speed Run that happened last week at the Encino Velodrome. Sounds like it was a good time.
Speed enthusiasts from as far away as Florida, Alabama and even Japan piloted their RC cars around the steeply banked concrete oval at speeds of 60, 70, and even 80+mph! The excitement of seeing an RC blur carving through the corners at illegal highway speeds was only topped by the rush felt by the drivers themselves. Through the night, records were set and high speed carnage was suffered, and both to the roar of the crowd.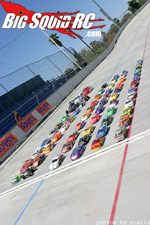 New Closed Course World Speed Records:
Record Holder – ISC Class – Speed
Nic Case Electric Open 83.76mph
Richard Tompkins 2wd Stock 68.16mph
Frank Killiam Large Scale 61.60mph
Shawn Palmer 4wd Stock 60.68mph
Gary O'Connor Nitro Small Block 56.76mph
Tim Smith Electric Modified 56.42mph
TJ Kendall Mini 51.24mph
Shawn Palmer Nitro Big Block 41.29mph
Dwayne Lawler Motorcycle 34.41mph
Congrats to everyone who made it out there and participated. For more information you can check out the www.rc-isc.com web site.