Pro Driver Tim Mohr visits KCRC!
KCRC's 2.2 Midwest Indoor Challenge- by Tim Mohr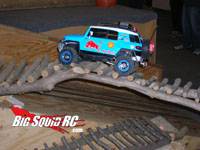 While in Kansas City March 1st for some business, I had to check out my first rock crawler event. Actually, in the rock crawling world, they are called "comps", and what a first comp to hit. This event featured some of the elite top crawlers, and had tons of factory support. Castle Creations had three in-house reps at the event, and MaxAmps Batteries had their head of marketing on hand as well. RcCrawler.com even had live streaming event coverage!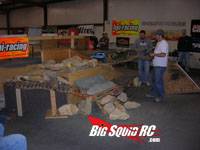 About the course- this event was held at Fastlane, easily Kansas City's best indoor venue. It's usually known for it's outstanding ozite carpet racing, but for this event, they built an incredible rock crawling course. The top pro's were truly challenged by it, and lesser skilled drivers had a downright tough time getting
through the stages.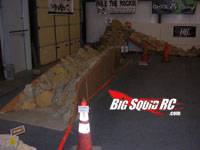 What I learned- well, I learned a lot in just a few hours there. Now I've heard rock crawling is the "next big thing". but it just didn't look interesting to me. I'm all about going fast, not going slow. But I think everyone that got a chance to watch the event went home and ordered up a new crawler! It looks addicting, and I'm particularly attracted to the technology aspect of it. Most trucks at the event started life as an Axial, but were on course significantly mod'ed out in an effort to scale the impossible, and to lower scores.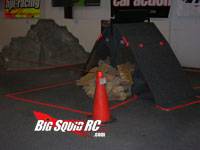 In closing, if you don't want to get into rock crawling, do NOT attend an event. If you do, you will get hooked! Props to the members of KCRC for putting on an outstanding event, Fastlane for supplying the venue, Castle Creations and MaxAmps Batteries for being on hand and giving tons of swag, and to all the racers that made long journey's to be part of perhaps the largest indoor crawling event ever.
Pro 2.2 Class Top 10
1- Austin Dunn
2 – Brad Dumont
3 – Jason Gainey
4 – Scott Cruz
5 – Kevin Crews
6 – Tim Flemming
7 – Jeremiah Lang
8 – Scott Hornby
9 – Chris Dean
10 – Jay Robinette
Amateur 2.2 Class Top 10
1 – Kevin Keene
2 – Matt Hawerlander
3 – John McComas
4 – Steve Keesler
5 – Greg Harper
6 – Jud Zeigler
7 – William Quist
8 – Randy Littrell
9 – Tony Bjerke
10 – AJ Jobe