Pro Driver Tim Mohr Wins Again!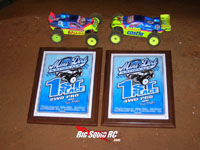 Once again, our Pro Driver, Tim "Hollywood" Mohr has made Big Squid RC proud! He won 2wd Pro AND 4wd Pro last weekend at the 18th Scale Dirt Nationals! Way to go Tim!! You Rock! Also, Congrats to good friend of Big Squid RC, Wesley Dennis for placing well also.
The following is Tim's full race report.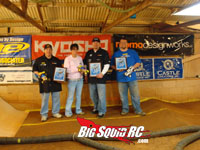 18th Scale Dirt Nationals Race Report by Tim Mohr
Where- Square in the middle of the deep south, a suburb of Birmingham Alabama called Trussville. The host track was called MadMaxx RC. The MadMaxx track is dirt, indoor, off-road.
When- Friday, February 22kd for practice, and Saturday February 23rd for all the qualifiers and mains.
Race Format- Four qualifiers were held, with the top 3 quals being added together to determine TQ. Qualifiers were held with IFMAR staggered starts. All qualifiers, lower mains, and monster truck mains were 5 minutes long. All other A mains were 10 minutes in length.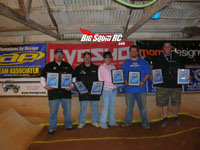 Track Notes- In previous years, the MadMaxx track was a bit sandy. But this year is was nearly 100% red Alabama clay. This yielded good traction, yet the surface was hard enough to fight off chunking out. In previous years, nearly all the jump faces and acceleration points would get all blown out, making an already challenging course even more difficult to pilot around. This year, the course held up well and did not blow out at all. New features on the track this year included a wall corner (a near vertical face that you had to drive up and make a turn on), and a huge vert ramp triple, with a wood vert ramp as the take off jump. With this being a small track, fast laps were in the 13 second range, with an average lap time around 15 seconds.
The news- Castle Creations factory shoe Wesley Dennis was running one of the new hard case Mamba 25 speedo's in his Losi Mini-LST. This speedo was first scene by the public at the Indy Micro Champs a few weeks ago. The new speedo seemed to work really well, with improved throttle control, and the same awesome power as the older Mamba controllers. On the battery front, several guys were running the A123 1100 mah packs. Seemed the normal charge rate in the pits was 5 amps, resulting in about 10 minute charges from dead empty. Personally, this was my first race while running battery fusing, an attempt at adding yet another safety feature for li-po packs, and I didn't pop any fuses, or have any other battery related issues all weekend.
Who was fast- The results speak for themselves. But some of the standouts were…. Jason Schmidt- he TQ'ed Monster Truck with a dialed Mini-LST, and was simply untouchable till he melted a motor wire, putting him back to third in the main. Very consistent driver, with awesome corner speed.
Jason Annis- MaxAmps factory shoe that finally got that first national title he's been working so hard for in the Monster Truck class. He was the only X-Ray driver at the event, but both his M18T and M18MT looked to be on rails.
Brian Cooke- MaxAmps factory shoe, and former winner at this event, looked super fast and consistent, pulling off two podiums. The first in 2wd Pro with his Losi Mini-T, and the second in 16th scale pro with his Kyosho. Cooke is one of the premier dirt mini drivers in the country, and deservedly so.
John Ball- Totally had the 16th scale Pro field covered with a dominant TQ, but for the second year in a row, had a mechanical problem in the main. Awesome corner speed, line selection, and he has mad skillz while airing his Kyosho ST out huge. It could be argued John is one of the premier mini dirt pilots in the country. He is that good.
Brad Thompkins- Brad was like a sleeping giant in the qualifiers, taking the BQ, and having to bump his way into the A. But once John Ball had a problem in the 16th Pro A-main, there was no stopping Brad. He aired it out every lap, and simply did what it took to win the title, drive a perfect race. Brad was super fast, and got a hard fought, and much deserved win.
Spencer Glasgow- His name might not show up in the results below, but he was perhaps the single fastest guy at the 18th Dirt Nats. He ran 2wd and 4wd Pro, and easily could have walked away with both wins. Spencer is factory driver fast, but had some hard luck in the mains. His line selection and corner speed are second to none.
Wesley Dennis- Wesley was still flying high from his big win at the Micro Touring Nationals. But qualifying was rough to "Micro Man". Little problems here and there left Wesley sitting in two C mains, and one B. That's when Wes hit the nitro button, and bumped his way into all of his A's. Wes made a hard run to the front of the Monster Truck A-main, till he broke a rim and DNF'ed. In 2wd Pro, he put in a great race for a 2kd place, and put it on the podium again in the third spot in 4wd Pro. He had a long, rough weekend, but thanks to his incredible driving skillz, he still walked away with some hardware.
It's hard for me to comment on my own races. But I just tried to keep my trucks on all 4 wheels, and that strategy worked really well. I had a blast at the race, and can't wait to get back for the 4th Annual Dirt Nationals next year. I want to give out huge thanks to my sponsors- BigSquidRC.com, Castle Creations, MaxAmps, TheToyz.com, Grand Motorsports, and Driven Pro.
Missing Notable Names- There were really three bigs names missing at this event. 2006 RC Pro Series National Champion Ron Meloni was not at the race, and is certainly one of the fastest mini dirt drivers in all of America. Another mini dirt hotshoe, Elliot Martinez, from Texas, is always at the top of the charts in the RC Pro Series, and is insanely fast. The last big name that was missing from this event was Duratrax factory shoe Jason Holt. Jason is always considered to be one of the creme of the crop in the 18th scale dirt crowd. Hopefully next year these top 3 guys will make the trip to the dirt nats.
Final Results-
2wd Pro
1 Tim Mohr
2 Wesley Dennis
3 Brian Cooke
4wd Pro
1 Tim Mohr
2 Jason Annis
3 Wesley Dennis
4wd Sportsman
1 Blake Shelton
2 Brad Morgan
3 Jeff Wyatt
1/16th Pro
1 Brad Tompkins
2 John Ball
3 Brian Cooke
Pro M.T.
1 Jason Annis
2 Mike Jones
3 Jason Schmidt
Novice
1 Will Aultman
2 Brian McBrayer
3 Rick Buch