Pro-Line 1:10 Closed Cell Buggy Inserts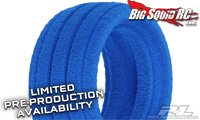 New from Pro-Line are these rear 1:10 scale Closed Cell Buggy Inserts. People are starting to learn that inserts can make a real difference on the track. I remember years ago where just any type of foam to keep the tire from caving in was enough, and now the technology has improved so much, that these can really make a difference.
Check out the Pro-Line web page for details.