Pro-Line 1973 Ford Bronco Body with Roll Cage for Crawlers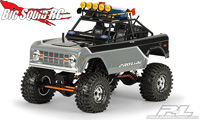 Check out the cool Pro-Line Racing 1973 Ford Bronco body with roll cage for the crawling scene! Fits the Axial crawlers and Losi, as well as probably most other 1/10 scale. All the cool accessories are sold separately, or you can supply your own. It's a cool look, and I'm glad to see Pro-Line keeping on top of the scale look.
You can visit the Pro-Line Racing site here for more info.