Pro-Line 2.2 Indoor Carpet Tires – Pin Point Rears and Wedge Front in Z3 Compound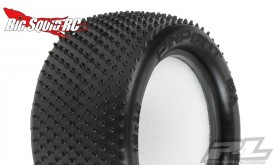 In the northern part of our country it can get mighty cold in the winters, off-road racers then head indoors to get their rc fix. Sometimes they race on moist clay, but sometimes they opt to race on carpet. Until now, choices for long wearing tires that offer great traction have been pretty limited.
Cue the good guys over at Pro-Line Racing. Pro-Line has just announced new front and rear tires specifically for use on indoor off-road carpet tracks.
The Pro-Line Pin Point rear tires use a sine wave pattern on its sharp pins to get you more traction. To make sure they don't burn off in one run, Pro-Line has come up with their all new Z3 carpet compound. If you are looking for great traction without the need to buy a set of tires for every run, the Pin Points should be the "must have" tire for the rear of your buggy this winter. The part number is #8228-103 and they have a street price of $16. Hit THIS LINK for more information on the Pin Points.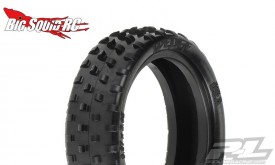 Pro-Line has new Wedge carpet off-road tires for the front of your Durango DEX210, Associated B4, Losi 22, Kyosho RB6, etc.
The Wedge front tires use hook shaped pins to give plenty of steering, while the new Z3 compound helps them last. The Wedges are also very narrow and low profile, two attributes that are wanted for carpet off-road racing. The part number for the Wedges is #8225-103 and their street price is $15. Hit THIS LINK for more information on the Wedges.
Thank goodness it's Friday, why not check out a BigSquidRC Mystery Link?