Pro-Line 73 Ford Bronco Body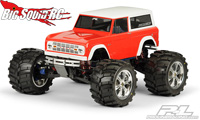 Pro-Line Racing has been doing a great job at picking up some sweet licensed bodies lately. Here is their new 73 Ford Bronco body that is sized for the T-Maxx, Revo, Savage owners. Extended rear body posts, that may be needed are not included.
You can visit the Pro-Line Racing site here for more info.