Pro-Line Big Blox 8th Scale Buggy Tires Now in X Compound and Pre-Mounts

Pro-Line has announced that their Big Blox 8th scale buggy tires are now available all glued up and pre-mounted for your driving pleasure. The mounted Big Blox save you time and hassle by coming ready to bolt right up to your buggy, giving you more driving time. The pre-mounts are available in their popular M3 (soft) or M4 (super soft) compounds, and come mounted on white Velocity wheels. Part numbers are #9048-32 for M3, #9048-33 for M4, and both have a street price of right at $35 per pair.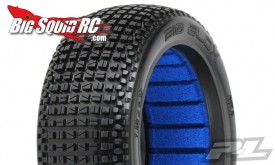 Big Blox are also now available in Pro-Line's new long wearing X2 (Medium) and X3 (Soft) compounds. Big Blox are already known for their long wear characteristics, I would think that in X Compound you should be able to complete an hour long main and still have plenty of tread left. Part number for the X2 Big Blox's is #9048-002, the X3's are #9048-003, and both have a street price of around $22 per pair. Hit up the official Pro-Line Website for even more information.
We have a lot more Pro-Line News right HERE on BigSquidRC.