Pro-Line Bringing some x-mas Cheer!
First up today from Pro-Line Racing are the new Bow-Tie LPR. The LPR Bow Tie is the latest in 1:8 truck racing. The LPR stands for Low Profile Race, so if you are in the 1:8 scale racing scene, lets hope you find these under your tree!

Next up are these sweet looking RC rock crawling rims. The Eight Shooter 2.2 Bead Loc wheels are ready to fit the Scorpion and Wheely King hex systems. These things looks sweet.. I really need to look into getting a crawler this year, I have heard a few shops in the area are looking at making some courses, and if there's a place to go for RC, I'm there!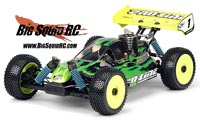 Last up today is a Crowd Pleazer 2.0 for the Ofna Hyper 8/8.5 . As always, Pro-Line is quick to jump on a new Ofna vehicle. I'm starting to feel sorry for the poor guy who has to make a new Crowd Pleazer every month when Ofna decides then need to put out a vehicle with a different screw set. They should drop the numbers, and just come out with the Ofna – December 07 edition.