Pro-Line Buggy Bodies and Wing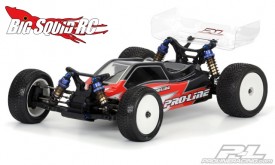 The guys at Pro-Line have some new 1/10 scale buggy stuff coming later this month. Their new BullDog body can be ordered to fit the Kyosho ZX-5 or Losi 22 in either the mid or rear motor mount configuration. They come unpainted, with decals, window masks, and wings. If you've already got a body, but need a wing, they also offer some 1/10 scale buggy wings to give you ride that extra downforce.
Make sure you check out Pro-Line for more details.