Pro-Line Chevy Silverado Pro-2 SCT Body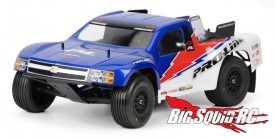 If you're looking to add a little "bow-tie" to your short course truck, check out Pro Line's Chevy Silverado 1500 Pro-2 body. This new body comes clear, with all the window masks and decals for you to custom paint and design to look however you want. It even has 1-piece bolt-on number plates and side dams to give this thing a true authentic race look.
Made to fit the Slash, Slash 4×4, Blitz, SC10, and Ultima, this body should be avaliable soon. Check out Pro-Line Racing for all the details.