Pro-Line Desert Rat 2.0 for SCRT-10 and SC10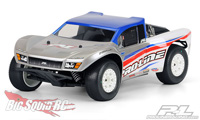 For all those SCRT-10 and SC10 owners, Pro-Line now has a Desert Rat 2.0 body for you! I'm sure there are a lot of Jammin SCRT-10 and AE SC10 guys looking for an upgrade, so when your looking for a body to fit, make sure you check out this one.
For more info click on through to Pro-Line's site.