Pro-Line Driver Cody King Wins Truggy at Psycho Nitro Blast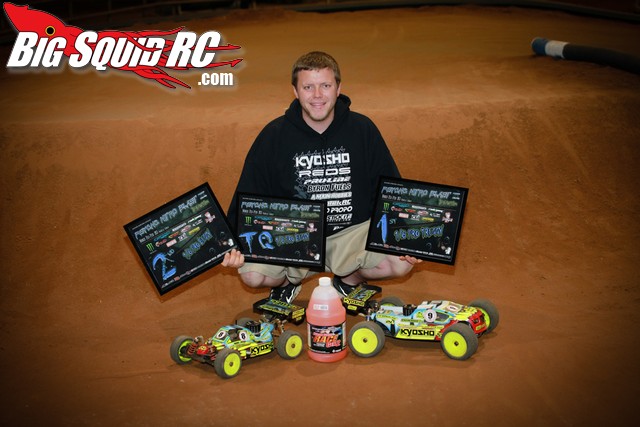 Here are a couple of excerpts from the race report of Pro-Line Racing driver Cody King. This is the race report from the Psycho Nitro Blast where he won truggy and finished second in buggy while using Pro-Line tires.
"In Truggy, Lutz would grab the TQ, but the main was little different. I would get the lead early and battle the entire 45 minutes with Pro-Line's Adam Drake and Barry Pettit. When I say the entire 45, I really mean the whole thing from tone to tone. Those guys really made me work for it, and it wasn't until the last few laps that I finally started stretching out. I'm really pleased to have a win in truggy. It's been awhile since I won a truggy event, and the truck is really good right now. We softened the shock oil and moved some weight up front, and it's really good.
Big thank you to all my Sponsors for the support, many of whom did special things to make this happen at the last minute. Kyosho ran around and got me parts last minute to bring on the trip. Reds did so much and the R5T TE engines in both my cars were so perfect the entire time, as well as the Reds turbo #5 plug which may be the best plug in RC right now. The new 2104 pipe is very good as well, even smoother power and better fuel mileage. Pro-Line, thanks very much for sending tires out and getting them there by Thursday. I ran Holeshots in both classes (M3 in truggy/M4 in buggy) and they were hooked up the entire time. Even in the buggy after 45 minutes I did my fastest lap at the end of the race. Byron Fuels, thanks for the great juice. The Worlds Blend sweep at this race! A Main Hobbies, KO Propo, everyone, thanks very much."
To get more information on race winning Pro-Line tires you can hit up their Official Website.
Speaking of race winning tires, have you read our Pro-Line Blockade SC Review?