Pro-Line has the goods.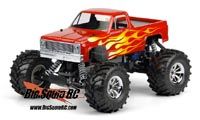 Today we have a few cool new products from Pro-Line Racing. First up is this 1980 Chevy K10. It's sized to fit the Traxxas Stampede or similar trucks in the rc rock crawler genera. Very cool.
Speaking of cool, check this body out! It's called the Boulder Holder. It's sized to fit the Revo 3.3, MGT, Genesis or Warhead. It has a deep bed for adding realistic dumping materials, and is .060 this.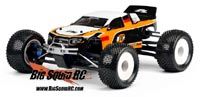 This might be the first month in history that Pro-Line hasn't released a Crowd Pleazer body. Instead we have this.. the HardDrive. It's scaled to fit the Traxxas T-Maxx's, Revo 2.5, and Savage. It's designed after full-scale off-road vehicles with ventilation louvers throughout the body. I can dig it.
Last up from Pro-Line Racing are these Assault Canopy wraps for the TRex 450! These look really good, if you're a TRex Heli owner and want to grab some attention when you are in the air, you might want to think about picking up on of these cool wraps.