Pro-Line Hole Shot 2.0 Off Road Buggy Tires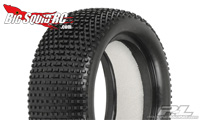 Coming soon from Pro-Line Racing are the new Hole Shot 2.0 1:10 Buggy Tires. They have an updated pin design, internal webbing to reduce expansion, come with foams, and are made 100% in the USA!
For more info you can visit the Pro-Line Racing site here.