Pro-Line HPI Baja 5B to 5T Truck Conversion – Desert Rat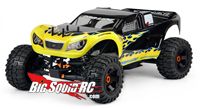 I know a lot of people have been waiting for this! Well, it's finally here, and it's from Pro-Line Racing! The HPI Baja 5B to 5T Truck Conversion! The first part in the truck conversion is the Desert Rat body! The body is made from .080 lexan, with an added piece of lexan to beef up the rear mounting location for a full .160! That's over 1/8th" thick!
To mount the body, a front and rear body mounting system is included. Worried about sore fingers from cutting something like this? Well this body comes pre-cut! Man.. my shopping list is growing!