Pro-Line Introduces the Caliber!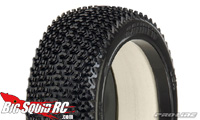 Got a buggy with no traction? Pro-Line Racing has the tires for you!
Introducing the Caliber for 1:8 buggies! Featuring a step-pin design with small pin technology these tires are long lasting and grippy!
Features:
– Dual-stage pin design for exceptional tread life
– Small top pin for light to heavy loose dirt
– Base pin extraordinary on hard-packed/blue-groove surfaces
– Square-lug technology throughout the tread design
– Directional tread for two different handling characteristics
– Internal carcass ribbing for reduced tire expansion under acceleration
– World Championship molded foam inserts included
– Available in World Championship/extremely proprietary XTR, M2, and M3 compounds
– Super true/balanced finish
– Made in the USA
Inserts are included as usual. These should be on shelves soon but if ya gotta have them then drop by Pro-Line Racing and grab a set!