Pro-Line Losi XXX-SCT/SCB Front Inboard Hub Review
THE Pro-Line Losi XXX-SCT/SCB Front Inboard Hub Review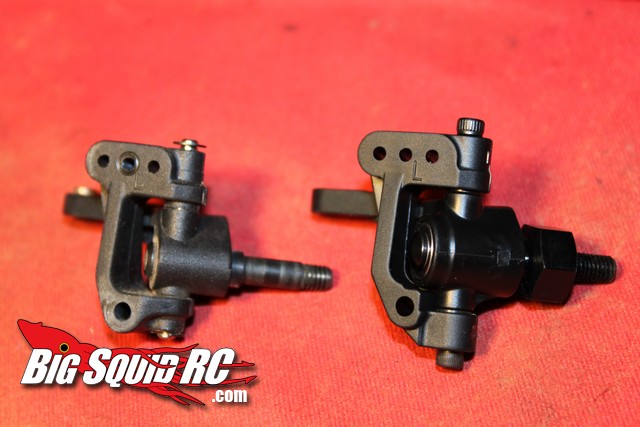 So we own a Losi Ten SCTE, several of them actually. We also own several Losi XXX-SCT's and SCB's. All good, right? Wrong. You see the SCTE uses different rims than the SCT and SCB. And… on top of that, the SCT/SCB's use different rims on the front than they do in the rear. So while virtually all I drive/race are Losi short course vehicles, I have this ridiculously huge inventory of tires because I can't mix them between vehicles.
Guess what? The smart guys over at Pro-Line Racing also saw this problem and addressed it. This week I'm reviewing their front inboard hub kit that allows the use of SCTE rims (and Pro-Lines Pro-Trac rims and Associated SC10 4×4 rims) on the front of the Losi XXX-SCT and SCB.

From: Pro-Line Racing
Direct Link: Pro-Line Losi XXX-SCT/SCB Front Inboard Hub Set
Review By: Cubby
Pics By: Cubby
Specs:
Part #6069-00
Street Price: $30
What Is It?: Replacement parts for the stock front hubs on the Losi XXX-SCT/SCB that convert it to a floating 12mm hex, allowing the use of more popular wheels.
What's In The Box: Everything you need. Bearings, hubs, hexes, it's all in there.
Test Drivers: Cubby, Brian, Tim, and Iron Mike
Test Venues: RC Outlaws in Collinsville IL, Leisure Hours in Joliet IL, HobbyTown USA Convention in Lincoln NE, backyard, and a cul-de-sac
Installation: The install went flawlessly. There wasn't a need to trim or modify any of the parts to have them fit and work properly.
Issues: Zero, nada. Everything fit and worked to perfection. But it is my job to complain, so here it goes- while a seasoned hobbyist could do the install in their sleep, noobs might of appreciated a set of written instructions (or pehaps a how-to video available on-line). Seriously I'm stretching it to complain about that, but that's all I could come up with.
Misc Notes: So the hub kit bolted up perfectly. So it worked perfectly with no issues. But did it handle a beating? Were the Pro-Line parts as tough as the stock parts? As tough as RPM parts would be? Well honestly I can't say, we didn't compare them back to back. But I can say we've yet to break the Pro-Line parts. No, we haven't been huck'n the SCB off of roofs, but we've subjected the parts to normal daily abuse, plus doing the demo's at the HobbyTown convention which involved bouncing off ramps, slap landing to pavement, slam'n curbs, etc. All I can say is the Pro-Line hubs have held up to normal abuse without any breakage.
One more note here, we also installed Losi part #LOSB3494 ($12) rear hexes to our test Losi XXX-SCB. These are rear wheel hex adapters that allow the use of SCTE rims on the rear of a Losi XXX-SCT or SCB. Combine the Losi adapters with the Pro-Line front hubs and we can now use SCTE (or Pro-Trac, or SC10 4×4) rims on the front and rear of our test SCTE, XXX-SCT, and XXX-SCB. This is the way the guys at Losi should have designed these vehicles to begin with.
---
As with all of our stuff, if you see us at a bash, stop by and check out the vehicles we have with us. We may let you take a test drive, and at the very least get you some stickers!
SUMMARY
Time To Bash – 9/10 – Adding the Pro-Line hubs was just as quick as bolting up stock parts, about 5 minutes per side.
Car Show Rating – 6/10 – There is no bling factor here, they look virtually the same as the stock parts.
Bash-A-Bility – 10/10 – We have yet to break any of the Pro-Line parts. Mad props.
Value- 9.0/10 – Paying $30 bucks to save a ton on wheels and tires in the future? Heck YA!
Big Squid Rating – 8.5/10 – Tentacles.. The Pro-Line Inboard Hub Set works as advertised. It is easy to install, it has proved durable, and it will save a lot of money of wheels and tires in the future. Win-win-win!