Pro-Line Monster Truck Body and Tires Contest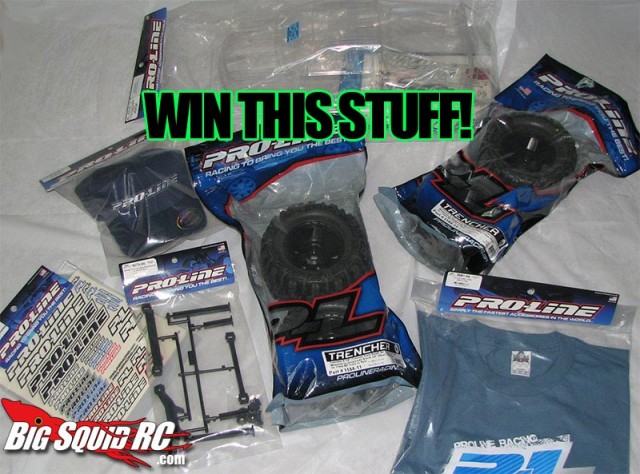 It's time for another awesome contest around here! This time we are giving away a few things to give your monster truck a new look! In this prize package we have a new Pro-Line Chevy Silverado body, two pairs of Trencher Tires mounted on Desperado 17mm wheels, Extended Body Mount kit, a Pro-Line Hat, Pro-Line T-shirt, and finally Pro-Line and Big Squid RC stickers to help complete the new look!
So how do you enter? Well, we are going to mix things up a little bit here and make you do a little work. You need to send us a picture of your Monster Truck! We want to see what sort of abuse our readers rides have been taking. Show us why you need a new body for your ride! A winner will be randomly chosen from all valid entries. Send your truck picture to pics(at symbol)BigSquidRC.com and make sure you put 'contest' as the subject line. When you think about it, it's pretty easy to enter. Just go snap a picture, and mail it in! We will post a bunch of the entries here on the front page for others to enjoy as well. All Entries must be in by Monday November 26th at 8pm, and a random winner will be chosen on Monday November 26th at 10pm cst.
The contest is limited to USA and Canada residents only. Sorry to all our overseas readers, but sending a giant box like this costs is just too expensive.
Ok, so what are you waiting for? Go get your camera or phone and send us a picture! You know you need a new body and tires!
Special thanks to the awesome folks at Pro-Line for being a contest sponsor! They really do rock, go buy some of their stuff!
Click here for more Pro-Line News on Big Squid RC.