Pro-Line offers up some new premounts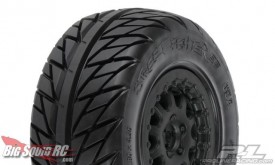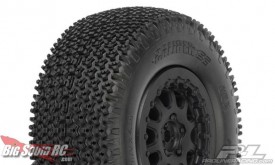 I know we're all thinking it, but I'm just going to come out and say it.  Premounted tires take all the fun out of the hobby.  I remember as a youngster spending much of my free time with a big bottle of glue and a stack of tires and wheels, putting them all together.  Actually, most of my memories of that time are hazy at best… though  I do remember the smell of the glue quite well.
[Disclaimer: Big Squid RC management does not condone sniffing glue.]
What was I writing about?  Oh yeah, Pro-Line has some new premounts for the short course crowd.  Their road friendly Street Fighter SC will be mounted on the standard black Renegade wheel which is compatible with the Blitz (f/r), Slash (rear), or Slash 4×4 (f/r) and also the ProTrac Renegade which is compatible with a ProTrac suspension equipped Slash or the SC10 with Pro-Line's front inboard hub adapters.  The track friendly Caliber SC will be mounted on the ProTrac Renegade wheel.
Pro-Line isn't giving an exact release time or price range for these sets, but they should be available "soon" and somewhere just north of $30, as with their other premounts.  Keep an eye on the Pro-Line web site for more info.