Pro-Line officially licensed Jeep Comanche bodies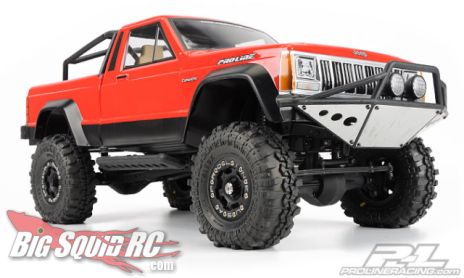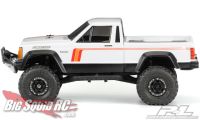 Those lovely gents at Pro-Line have some more paraphernalia for you Jeep addicts.  The Jeep Comanche light truck is finally getting it's just deserts and has been faithfully reproduced in crystal clear polycarbonate.  Two versions are available, one specifically for the Axial SCX10 Trail Honcho and one for every other 12.3″ wheelbase rock crawler.  Both versions of the body are two-piece setups.  The Trail Honcho version comes with a bed that has been designed around the Trail Honcho's cage system, and the other version has a regular bed.  Both versions include all the decals you'll need to decorate them, plus the usual window masks, overspray film, and necessary hardware.  They are also compatible with Pro-Line's 12.3″ PL-C Floor Plan and PL-C Interior.
You can expect to pay around $45 for a Comanche body and they should be hitting hobby shop shelves very soon.  Check out the Pro-Line web site for more info about these bodies.
Now Pro-Line just needs an official J10 body and I'll be a happy person.
Pro-Line Jeep Comanche body gallery