Pro-Line PowerStroke Scaler Shocks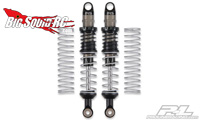 I'm happy to see the new Pro-Line Racing PowerStroke Scaler Shocks (90mm-95-mm) coming to the market. I was a HUGE fan of their Pro-Line Power Stroke Monster Truck shocks a while back, and have confidence that these new Scaler Shocks will be just as good.
Highlights – Aluminum body and shock cap, infinite spring pre-load adjustments, dual stage spring rates, dual o-rings, and a good fit for the SCX-10 or other rc rock crawlers.
You can visit the Pro-Line Racing site here.