Pro-Line Premount Bow Tie SC / Split Six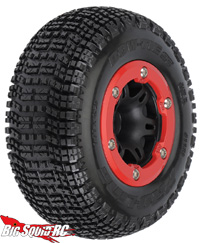 For those that want to open the package, mount them up and go Pro-Line Racing has another premount for you. Made specifically for the Slash (2nd gen wheels) / Slayer / SC10 (with mods) these will fit the bill. Tires are available in either M2 (medium) or M3 (soft) compounds and the wheels are available in either red or black.
Drop by Pro-Line Racing and be sure to check the shelves often as these will be flying off them!