Pro-Line Pro-2 Dirt Oval Modified: Part 2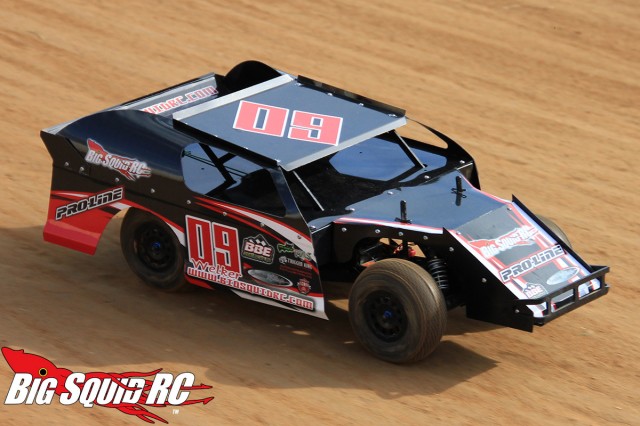 Note – You can read Part 1 of this article right here.
In part 1 of this series I took a brand new Pro-Line Pro-2 short course truck and converted it from the intended purpose of SCT to a dirt oval modified car. Since then the car has been completely finished and put through it's paces on two race nights. Click the "Read More" below to see how it performed and see a lot of pictures!
Let's start with the specs. Outlaw Short Course Modifieds are an open class as far as electronics go so, big power rules the roost. I dropped in a Castle 6900kv motor with a Mamba Max Pro ESC (geared with a 21t pinion). Providing the juice was a Pro-Match Racing 2S 70a 6500 mah pack, and a Spektrum SR3100/DX3 radio setup. I used a Hitec 5645 for steering. Also, big thanks to Derek at CustomRCWraps.com for doing a killer BigSquidRC themed vinyl wrap for my hot-rod (I raced it once before receiving the wrap, so that's why the car is solid black in a couple shots below).
The track I hit up was Maryville R/C Speedway, located in the small town of Maryville, IL (15 minutes east of St. Louis, MO). This facility is very nice and having it so close to home is a big reason why I enjoy running dirt cars so much. The track very much resembles a scaled down setup that you'd see the full size "World of Outlaws" tour running on any given weekend. The staff and volunteers do a tremendous job running a competitive, friendly program. The car count is normally high (they race Sprints, Latemodels, Modifieds, and Open Classes) but it moves fast and smooth. Special props to the kids class; after a kids/novice race everyone (from factory drivers to first time noobs) stop what they are doing and give the drivers applause. This is super cool and the youngsters really seem to enjoy it.
So anyways, about the car. Man, it's a pleasure to drive. I ran the factory suggested "baseline settings" and found the car to be close to dialed. My only gripe was a bit of tightness (i.e. the car pushed in the turns) but after tweaking my camber settings (-1 on the right front, +1 on the right left) it was hooked. I'm a big fan of the Hoosier tires Pro-Line Blockade tires that come with the kit as they had nice grip and let me slide the corners controllably. It's also important to mention the toughness of the rig. I had some pretty vicious accidents and also took some nasty bumps and slidejobs with zero problems. Nothing on the car was hurt, just my pride. Kudos also to the BBE bumper (the modified body kit replaces the stock bumper) for absorbing some really nasty shots. I actually managed to bend some stainless screws with one particular wall hit but the bumper held up. So with a little luck and a lot of banging I managed to eek out a feature win the very first time out with the car. I was feeling really good.
A few weeks later it was time for event #2. Whereas the previous race was held on a cool overcast evening, this time it was humid and hot with not a cloud in the sky. The track was very different and after fighting an ultra tight car I wound up taking more camber out of the front right (-3 degrees) and it came around. I managed to qualify middle of the pack but had to bow out before the mains started as I had a motor that was on the verge of thermal'ing. When the temps were cool I could get away with running a tall gear (you have to remember, with oval racing you are running wide open much of the time) but the heat & humidity wouldn't let me get away with it this time. I'm gonna drop a couple pinion teeth and try to get 'em next time.
In an interesting coincidence, on that first night I showed up at the track a long time friend and racing buddy (Matt is his name) just happened to be there scoping things out for a possible return himself. After seeing how my car was handling, he wound up purchasing and building one himself. Also, thanks to Matt for hooking me up with a set of "Big Squid Red" Hoosier wheel dots. They look trick and complete the look of my car. Checkout his beautiful Monster Energy themed Pro-2 below.
All in all I've had a great time getting back into oval racing and can't wait to keep at it. The Pro-2 is a killer platform to start with if you're interested in trying out dirt oval racing. The popularity of 1/10 short course has led to most oval tracks having some type of class based on them, so it's a great way to dip your feet into the waters. You may find out that going in a circle is some of the most fun you can have in r/c. Big thanks to Pro-Line Racing, Bodies By Ed (BBE), CustomRCWraps.com, and my friends at Maryville R/C Speedway (especially Chris Kaelin for taking my camera to shoot a few pics as I was wheeling). As a bonus, check out a few pictures of other oval cars doing their thing below.
For more Pro-Line Racing news on BigSquidRC you can click here.