Want to win a bunch of Pro-Line Racing swag PLUS a set of Destroyer Clod Buster Tires, along with a Big Squid RC T-Shirt and stickers? Well you are going to have to work for this one. Consider this contest a bit like a scavenger hunt. You have all heard about the Big Squid Monthly publication, and how we are trying hard to support your local shops. The latest issue should be hitting hobby shop counters this weekend, and to enter this contest, you need to send us a picture with a copy in your hand! How easy is that? You don't even need to take the copy with you, it's free, so you know.. you can, just take it, but we want to see a pic of our readers holding it. Actually the goal here is to get you into your hobby local shop!
While we are not in every hobby shop in the country, we are in a lot of them! Think about it this way, this probably won't be one of our normal contests where there are 5000 entries, so if you are near a shop that carries it, why not take a ride down there, say hi. Remind the owner of good times when he sold you that first monster truck, maybe even pick up a few parts while you are down there!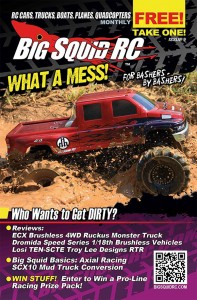 How do you enter? Head to your local shop, find a copy of the latest issue, take a picture with it in hand, maybe take it outside your shop, give your shop a little love! Then send the image to contest (at) bigsquidrc (.)com. You are then entered to win! All entries must be received by October 31st, 2015! So you have a couple of weekends yet, but you better make it down to your shop before they are all gone.
As an added incentive, the first 20 (TWENTY) people to enter will be sent a set of Big Squid RC stickers! So what are you waiting for?!
Not sure where to find the Big Squid RC Monthly? Here is the latest list of shops we have shipped to:
Click here for full list..
Special thanks to Pro-Line Racing for their support and all the swag!