Pro-Line Racing Big Joe Tires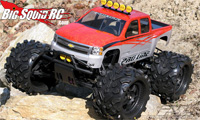 Get ready monster truck fans, Pro-Line Racing has what you need to get that tired truck a new boost. The new Big Joe 3.8″ (40 series) All-Terrain Tires mounted on Tech 5 wheels. They come pre-mounted on the Tech 5 wheels, and are ready to go on your T-Maxx, Revo, Savage or other monster truck. The rims are direct fit on all 17mm hex hubs.
I'll have to check and see if I have worn down the Flux tires yet so I can give these a try.
You can visit the Pro-Line Racing site here for more info.