Pro-Line Racing Bow-Tie SC Tires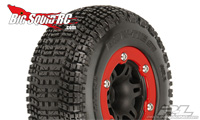 If you are in need of some Bow-Tie tires for that short course truck Pro-Line Racing has your hook up! The new Bow-Tie SC tires come in M2 and M3 compounds and a just waiting for your Slash (2nd generation 2.2″ x 3.0″ wheels) Slayer, and SC10.
You can visit the Pro-Line Racing site here.