Pro-Line Racing brings the goods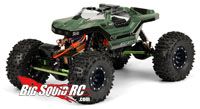 This is one of the coolest RC Rock Crawling bodies I have seen. This is the new Helios from Pro-Line Racing. It fits the Axial Scorpion as well as the HPI Wheely King. It looks a little like a vehicle from a Halo video game. It meets the minimum dimensions for competition, and is very light. I think I want this as my next crawler body.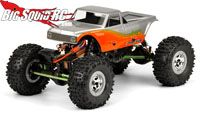 Sticking with our rc rock crawling theme, Pro-Line Racing is also offering this Chevy C10 – 1972 body. There are a lot of classic truck fans out there, and this should make those people very happy.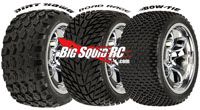 It's hard to mention Pro-Line without talking about some wheels and tires. This month they announce a few sets of pre-mounted 30 series 1:10 truck tires. These are for the Traxxas Jato, Nitro Stampede and Nitro Rustler. You can take your choice of Dirt Hawgs, Road Rage, or Bow-Ties. Whatever your fancy, Pro-Line has you covered.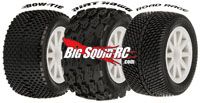 Finally is a set of pre-mounted 1:18th truck tires. They come in the same flavors as their bigger brothers and fit the Mini-T and RC18. I'm horrible at gluing my own tires, either the tires don't stay on, or my fingers are better glued to the rim. So if you are like me, these pre-mounts will be a welcome fix.