Pro-Line Racing BullDog Body for RC8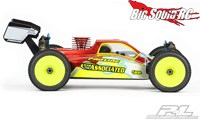 Looks like Pro-Line Racing is spreading out their BullDog line a little more with the recent release for the Associated RC8 buggy. This body style has been catching on here and there, with it's exaggerated forward cab design, it's made from .040 lexan, and has a ton of exposure for your cylinder head to keep things running cool.
You can visit the Pro-Line Racing site here for more info.