Pro-Line Racing Has your Slash's bottom covered!
Designed to protect what's underneath and sheild what's on top, Pro-Line Racing's Undertray is simply something your Slash needs! Designed from their highly durable .060 Lexan and as a direct fit over stock or aftermarket skids this undertray will keep your investment safe. Not to be left out, the side extend up high enough to keep the dirt and debris from entering the chassis. Comes clear, ready for your artistic dreams!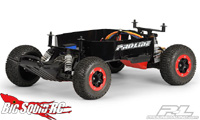 Jump over to Pro-Line Racing for more info!