Pro-Line Racing Slipstreams the Mini (1:16) E-Revo!
Remember a while back we introduced you to the Slipstream for the E-Revo? Now Pro-Line Racing has it for your Mini (1:16) E-Revo! Made from their extremely durable and shatterproof .030 Lexan with a high flow air intake thats directed right at the endbell then out the rear. The aerodynamic frontend is designed to maximize performance with keeping the drag at a minimal!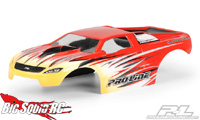 Click on by Pro-Line Racing for more info but drop by your local shop to put your hands on one!