Pro-Line Rat Rod Clear Body for Traxxas Revo 3.3, Summit, E-Revo and Monster Trucks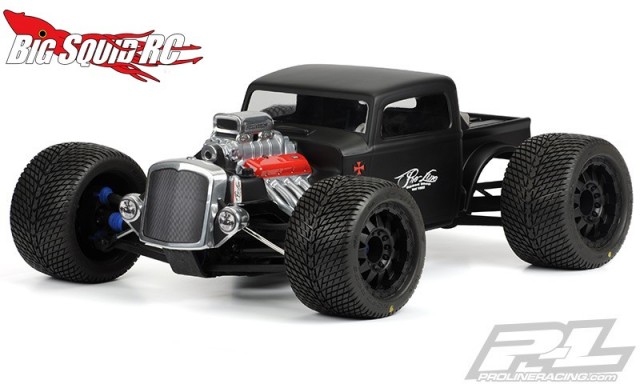 A couple of weeks ago Pro-Line teased their new Rat Rod clear body for Traxxas Revo 3.3, Summit, and E-Revo, now we've got the full scoop.
Pro-Line has always been known as a trend setter, not a follower. Their new Rat Rod clear body is a low profile hard top roadster with a big front grill and round headlights which will make a bold statement down at the local bash spot. Pro-Line left off the hood to highlight a detailed super charged engine that comes with stickers ranging from a 396 to a 502. The Rat Rod is molded from crystal clear GE lexan and of course it is made right here in the USA.
The part number for the PL Rat Rod is #3410-00 and the street price is $32. Click right HERE for the direct link to more information over on the Pro-Line website.
Get your weekend started off right with a BSRC TGIF Mystery Link.