Pro-Line Rat Rod Prize Pack Winner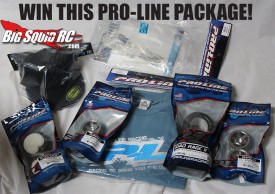 Last week we asked our readers to send in pictures of their 1/18th Scale Revo type vehicles for to enter to win an awesome prize pack from Pro-Line Racing, and as usual, our readers did not disappoint!
Thanks again to Pro-Line Racing for the awesome Rat Rod prize pack, and thanks to all of our readers who sent in their "Mevo" pictures.
Our random official winner is Shelby S. of Croydon, PA. Congrats Shelby! We will be sending you an email to get your address and info!
We got a TON of enteries and some great pictures. Posted below are just some of them, I figure 30 should keep you guys happy.
If you didn't win this time, stay tuned, we have a bunch of great contests coming up including one that will be announced Monday!