Pro-Line Recoil Off-Road 1:8 Buggy Tires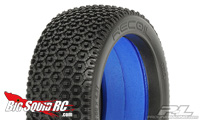 Check out this new pattern from Pro-Line Racing on their new Recoil 1/8th scale Buggy Tires. It's a new Hexagonal shape that helps with balance and stability. They are multi-purpose, and come in a variety of compounds.
Hopefully we'll see them in that M4 Compound that's been buzzing around the internet .
You can visit the Pro-Line Racing site here for more info.