Pro-Line Renegade Wheels for short course trucks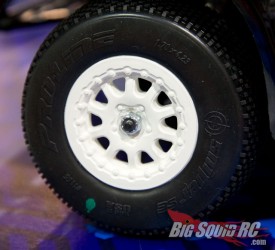 IHobby may be over, but we still have quite a bit of news and photos to share from the show.  Pro-Line had a ton of new products this year and we got to most of them, here's one we didn't.  This new wheels, called the Renegade, is going to be releasing some time soon.  It'll be available in an offset to fit Slashes and other stock short course trucks, and it'll also be available in an offset specifically for the Protrac Suspension setup that Pro-Line offers as a hop-up for the Slash.  The Renegade will be available in white, black, and Pro-Line yellow.  The price has yet to be determined.
Keep an eye on the Pro-Line web site for more info.